Personalized Reusable Water Bottles
We can't find products matching the selection.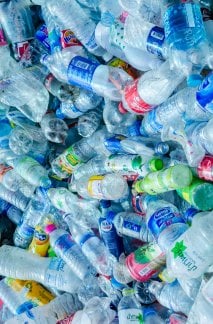 Better for our Planet
The diverse collection of Custom Earth Promos' Reusable Water Bottles includes food-grade Stainless Steel and BPA-Free Plastic bottles made with FDA-approved Polyethylene. Replacing disposable plastics with Reusable Water Bottles is one of the most beneficial acts of environmental conservation you can take part in, as the overproduction, air pollution and excess waste of BPA plastics has created one of the most severe threats to our planet in recorded history. In the United States alone, we dispose of nearly 2.5 million plastic water bottles every single hour, with 21 billion plastic bottles overfilling our landfills, lakes and oceans each year. With Reusable Water Bottles, you have the power to greatly reduce pollution, waste and conserve resources. Together, we can repair the damage caused by excess plastic waste and BPA.
Better for Your Customers
While BPA is effective and safe in specific utilizations, the dangers of ingesting BPA are largely unknown and under-researched. We do know that BPA has a powerful effect on hormones in the human body, particularly testosterone. Even small amounts of BPA can disrupt vital functions of the endocrine system and create chronic health problems. Bisphenol A (BPA) has been linked to increased cancer risk, as well as developmental brain and behavioral problems in babies and young children. Remove the risk of BPA from your customers' daily lives with Reusable Water Bottles, showing your concern for their health and your investment in sustainability.
Better for Your Brand
We proudly use food-grade stainless steel and BPA-free polypropylene (pp#5) for the caps of our Stainless Steel Bottles collection. Custom Earth Promos' BPA-Free Plastic Bottles are constructed with FDA-approved Polyethylene, a soft, squeezable, odorless, tasteless and guaranteed free of Bisphenol A (BPA) recycled material. Each fully customizable Reusable Water Bottle includes a plethora of potential personalization options. Work directly with a dedicated in-house design expert to build your brand exclusive order of eco-friendly bottles with the custom colors, graphic imprint(s) and style that best embody your brand. Hand out your Reusable Water Bottles as a promotional giveaway to increase exposure, build brand recognition and secure loyalty among eco-conscious customers.