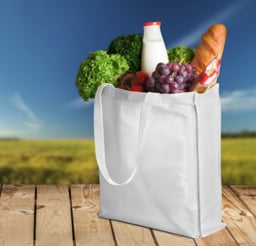 Bamboo is a 100% Sustainable Wonder of Nature
Bamboo is among of the most miraculous materials on earth. Natural bamboo is the largest of all grasses and the only one that can diversity into a forest! Clocked as the fastest growing plant on earth, bamboo is completely biodegradable and 100% natural. By creating a reusable alternative to plastic bags, bamboo helps to minimize toxic waste. Customize a brand exclusive order of Bamboo Bags with a Custom Earth Promos' design expert today. Take action towards preserving the planet that will greatly benefit the eco-friendly image of your company.
Bamboo Bags Do Wonders for Eco-Friendly Brand Image
Consumers are investing more time, energy and money than ever before in brands that have an established and communicated positive social and environmental impact. A global survey reveals over 50% of consumers are willing to pay more for "green" products that have been manufactured with sustainable production methods. This number jumps to 70% among consumers under the age of 20. Work directly with an in-house design expert to build a brand exclusive order of Bamboo Bags that will establish your eco-friendly presence, help you to remain competitive in your field, secure customer loyalty and long-term success.