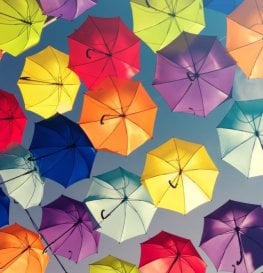 Recycled Umbrellas: Sustainable and Stylish Shelter from the Storm
Recycled Umbrellas are an ethical and eye-catching marketing tool to optimize exposure for a specific campaign, event or initiative while building "green" value for your brand. Our Recycled Umbrellas are available in a wide array of colors, materials, sizes and styles with accommodating imprint areas to showcase your company logo. Earth-friendly materials of recycled PET (rPET), 100% natural bamboo and post-consumer recycled content is used to make these superior quality umbrellas. Be sure to take a look at Product #UM4, the most environmentally friendly umbrella on the market. This beauty features a canopy of 100% recycled plastic, a frame constructed of 70% recycled content and a natural bamboo handle.
Recycled Umbrellas: Market Your Brand on an Eco-Friendly Platform
Every one of your customers has been in need of an umbrella at one time or another. They are a necessary item often exposed to large crowds of people in places like schools, shopping malls, grocery stores and parks. Why not give your customers shelter from the storm with a custom designed Recycled Umbrella that supports sustainability while showcasing a stylish rendering of your brand logo? Eco-conscious customers will be impressed with your proactive stance for environmental health and become more likely to suggest your business to friends, co-workers and family. Enhance your eco-friendly image to cultivate business growth in sales, reputation and market share value.